Trade shows are a time-tested marketing platform for countless businesses around the world. These events can both help companies find new clients, increase sales, improve brand awareness, and make personal connections with existing customers. And since these shows are so popular, there are countless benefits that come with hosting a trade show of your own.
To ensure your efforts to plan a trade show are going in the right direction, you need to know what attendees and exhibitors are looking for from these events. Keep reading for a thorough list of trade show industry statistics.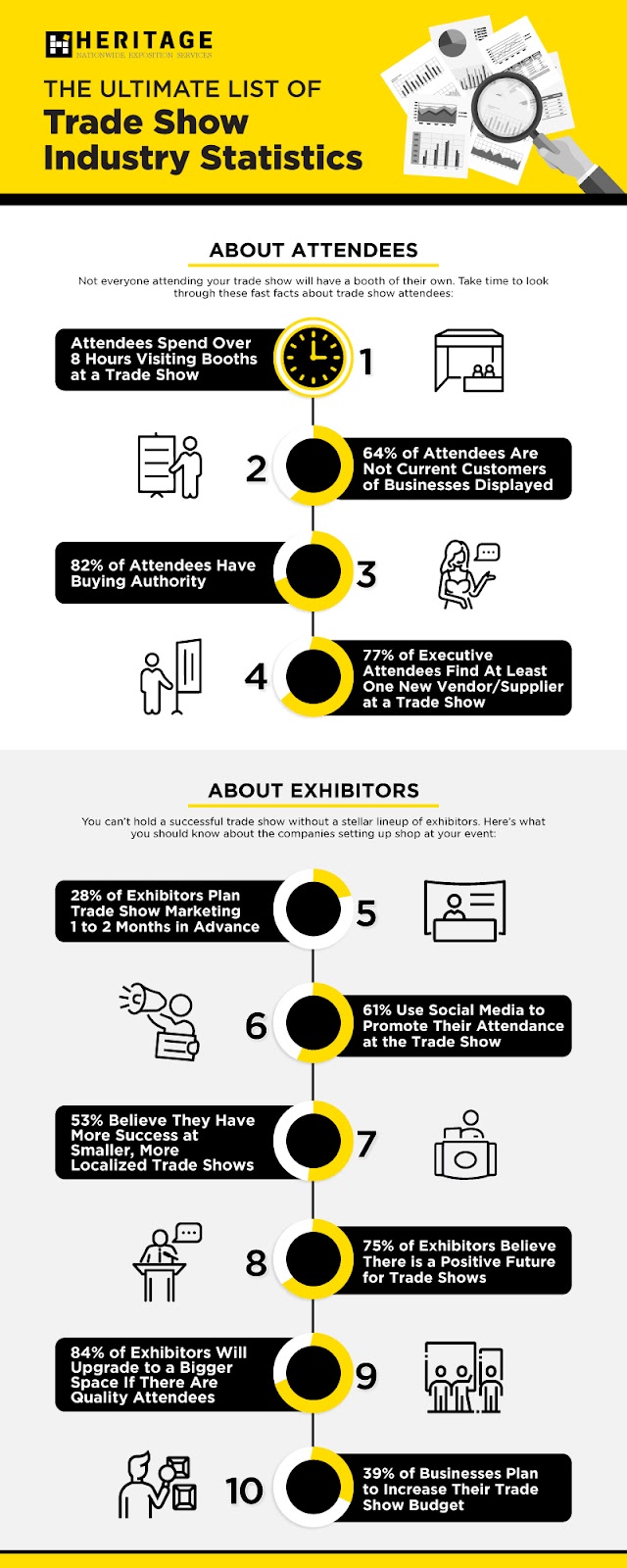 About Attendees
Not everyone attending your trade show will have a booth of their own. Take time to look through these fast facts about trade show attendees:
1. Attendees Spend Over 8 Hours Visiting Booths at a Trade Show
When people come to your trade show, you can safely expect them to spend quite a bit of time there. Be sure you have a full slate of exhibitors and that your venue can meet attendees' food and restroom needs.
2. 64% of Attendees Are Not Current Customers of Businesses Displayed
Over half of all trade show visitors won't have any links to the exhibitors on your show floor. That means they're ready to connect with new businesses.
3. 82% of Attendees Have Buying Authority
The modern trade show may be focused on letting industry professionals learn about the market and talk to current and potential clients, but sales are still a big part of these events. More than four out of five people at your event are likely to buy goods and services there, which can also keep exhibitors coming back.
4. 77% of Executive Attendees Find At Least One New Vendor/Supplier at a Trade Show
Generally speaking, people love looking for new partners while attending trade shows. These events give attendees a unique opportunity to connect in a meaningful way with other people and businesses in their industry.
About Exhibitors
You can't hold a successful trade show without a stellar lineup of exhibitors. Here's what you should know about the companies setting up shop at your event:
5. 28% of Exhibitors Plan Trade Show Marketing 1 to 2 Months in Advance
If you're preparing for a trade show, it's crucial to get the word out ahead of time. Fortunately, your exhibitors can help–when they promote their appearance at your show, they're also promoting the show itself. Arm them with marketing collateral like your logo, links to your social media and web pages. Cross promotion is a benefit for both of you. 
6. 61% Use Social Media to Promote Their Attendance at the Trade Show
Today's hottest forms of advertising aren't radio or TV ads. Instead, follow your exhibitors' lead and use social media platforms to tell people about your event.
7. 53% Believe They Have More Success at Smaller, More Localized Trade Shows
Are you holding a local or regional trade show? If so,feel proud–over half of all exhibitors actually prefer these events. 
8. 75% of Exhibitors Believe There is a Positive Future for Trade Shows
Hybrid events appeal to both exhibitors and attendees as it makes trade shows more accessible to a wider audience. This is playing a positive role in what the future looks like in the industry. 
9. 84% of Exhibitors Will Upgrade to a Bigger Space If There Are Quality Attendees
Working hard to promote your trade show will pay off, and not just in terms of attendance. The better your crowd is, the more likely businesses are to move to larger–and pricier–booth spaces.
10. 39% of Businesses Plan to Increase Their Trade Show Budget
The trade show industry is doing well at the moment, but it could get even better shortly. You can expect to see nearly 40% of exhibitors raise their trade show budgets next year.
About Planning
Trade show planning is a complicated task, but keeping statistics in mind can make it more manageable. When you know what the people and businesses attending your event expect, you'll be able to meet their needs while avoiding unforeseen difficulties.
Needless to say, these aren't the only statistics that can help you plan a trade show. To make sure you're on the right track, it's a good idea to hire an expert that knows the industry inside and out. That's especially true in the wake of COVID-19, which continues to affect real-world event planning.
When you choose to work with Heritage Nationwide Exposition Services, you'll benefit from the knowledge provided by the most experienced company in the trade show industry. Heritage has spent over 50 years planning trade shows and can help you mark off big tasks letting you focus on the bigger picture. 
PLAN A SUCCESSFUL EVENT