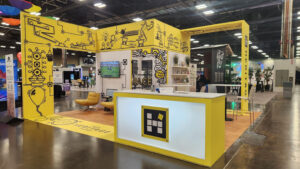 As we collectively leave the pandemic in the past, trade shows will continue to march on, full steam ahead. Across all industries, people want to meet in person, network with other professionals, and experience cutting-edge innovations in their line of work. Time apart during the pandemic and technological advances over the years continue to influence what attendees want from a trade show and how organizations approach planning for one. Now that it's once again possible to safely gather in person, here are some trade show trends we expect to see more of in 2023 and beyond. 
1. Focus on Sustainability
As topics about sustainability gain traction in every industry, trade shows are no exception. Attendees care about an environmentally-responsible event, and event managers who plan accordingly will win the goodwill of their attendees. 
For starters, trade show organizers are increasingly interested in the ability to rent high-quality furniture. Rather than purchasing cheap seating that will later be tossed in a landfill, higher quality products can be reused time and again.
Similarly, signage and meter boards, while virtually impossible to reuse, can be made with compostable materials and further divert waste. Sourcing recyclable signage can go a long way in helping organizations meet their sustainability goals, and it's something attendees care about more with every passing year. 
Organizations should also consider utilizing efficient fleet transportation, either with electronic or low-emission vehicles. It's not just eco-friendly, too—improved efficiency can also save money on freight and shipping costs. 
At Greenbuild, a conference for sustainable building professionals, organizers have implemented a "Green Team." Members of this volunteer team help educate eventgoers about the sustainable practices of the conference and help them adhere to recycling efforts. 
Luckily for event managers, planning sustainable practices doesn't have to mean extra work or complication. As a general services contractor, Heritage Exposition Services integrates sustainable practices into everything we do. 
2. Innovative Booth Activation
In contrast to the relatively standard booths of the past featuring simple tables and signs, it's more important than ever for modern trade show booths to create interactive, immersive experiences for attendees. The most effective booths utilize every component of a space to engage guests. This includes lighting, sounds, hanging structures, and in some cases, even virtual reality. 
At this year's CES, attendees were able to play custom video games at the USPS booth or hop on a motorcycle and take high-definition photos with Nikon. The virtual reality company, Caliverse, allowed visitors to don headsets and visit a full-scale virtual mall. 
Rather than simply pitching to attendees or trying to push for sales, booth activation is an opportunity to engage show attendees and build lasting relationships. Regardless of the company and its products, trade show attendees expect to be engaged beyond brochures and verbal pitches.
3. More Networking Opportunities
Networking has always been central to trade shows, and in 2023, you can expect it to take an even more crucial role in an event's success. 
By actively engaging attendees both inside a booth and outside of it, exhibitors can build a network through experiences and interactions. Trade show organizers should do everything possible to facilitate networking among attendees, including cocktail hours, mixers, and, more recently, interactive networking spaces. 
When planning Git Merge, a conference designed to connect members of the Git community (an open-source software platform), organizers decided to emphasize networking opportunities and creative activations. These included a lounge area complete with tabletop games and a magnet wall where people could spell out puns, ideas, and their social media handles. 
Clever ice breakers like these are a creative way to help attendees build their networks during the event.
4. Demand for Trade Show GSCs
Even the most basic trade shows are highly complex, with many moving parts. Adding extra layers to think about—like innovative booth activation ideas or engaging signage designs—can add even more pressure to an event planner's job.
To make matters more difficult, trade shows tend to last only a few days, giving you one shot to get things right. 
Offloading some of the details to a general service contractor (GSC) can help you seamlessly pull off a trade show or other event. The right GSC partner can help with ideate creative angles, implement solutions, and help make your event memorable for all who attend. 
With 60 years of success in the trade show business, Heritage Nationwide Exposition Services can provide the expertise, solutions, and logistical know-how to host a best-in-class trade show. A full-service event contractor, Heritage can partner with your company to help plan your event from start to finish, leveraging industry knowledge to ensure your show capitalizes on the current trends. Contact us today to get started.