Get to know us

and everything we offer

Heritage is a full-service special event and trade show contractor that ensures your success. We work on a direct local, regional and national basis in every major U.S. city and have the resources to service events, no matter what size. We are a family- and employee-owned company with all the resources and capabilities of a large company, but the integrity, responsiveness and commitment of a small organization.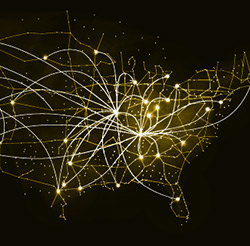 Heritage Trade Show Services traces its beginnings to 1963 with the opening of our St. Louis office. Right away, we started pioneering the tradeshow and exhibition industry, serving major clients such as Anheuser-Busch, Monsanto and McDonnell Douglas (now The Boeing Company). Our passion and growth inspired Curt Yemm, a long-time Heritage employee, to make the company into even more. In 2001, Yemm and his family purchased and incorporated Heritage. Heritage remains a family- and employee-owned and -operated company offering large-company capabilities and outcomes with small-company personal service. Every day, we further our mission to provide trade show solutions that ensure show managers and exhibitors achieve success.
How do we
help you succeed?
We believe in investing in new trade show solutions, such as exposition technology, equipment and our employees.
We deliver trade show solutions that fulfill your needs and make planning and execution a productive and orchestrated experience.
We employ local resources in each major trade show market across the country. By maintaining a comprehensive inventory of our own new, high-quality equipment and trucks, we take care of the logistics and details of your show.
As experienced exhibition contractors, we're steadfastly committed to you and your event. Our design specialists work with you 1-on-1 to design creative, eye-catching renderings of registration and entrance units, kiosks and other layouts that captivate and inspire your attendees.
During all pre-event site events and on the day of your event, our staff will be on the ground, attending to you and your team and anticipating needs.
Groups

and Affiliations

Heritage is committed to working with others in our industry to make it the best it can be. We are a proud member of all of our industry's leading groups and organizations. We continually work to develop our industry and inspire our passion for our work.
Sustainability
At Heritage, we believe it is our duty to utilize our strategic position in our industry to shape it for the better. That's why we work to not only meet, but also to exceed all local, state and federal sustainability legislation and regulations. We strive to set global best practices for our industry.
We stay ahead of the curve by integrating our business with sustainable practices. Many of these measures have the added benefit of reducing costs, which we are able to pass along to our clients. The following are just a few of the ways that we have moved this important effort forward:
Offering an online ordering platform for show managers and exhibitors that is environmentally friendly and 100% paperless
Developing new processes in our graphic production shop
Switching our logistics fleet to fuel-efficient models
Placing geographically strategic warehouses throughout the U.S.
And many more initiatives
To ensure our continued growth, we employ a sustainability coordinator. Chris Lorenz, our sustainability coordinator, ensures ongoing environmental performance, identifies environmental risks and certifies our compliance with these principles.
Heritage Trade Show Services always encourages our staff, suppliers, contractors, agents and everyone we work with to also adopt sustainable practices where possible.
We have an unwavering commitment to sustainable business practices and continually look for ways to further these efforts.
Our president Curt Yemm addresses sustainability in this letter.
To our loyal partners and prospective customers:
Heritage promises to provide our customers and stakeholders with industry-leading sustainable exhibit services. We hold the following core principles:
Continually improve the environmental and social sustainability impact of our operations and best practices including APEX/ASTM.
Be transparent about the impact of our exhibit service choices on people, the planet and profit.
Exercise stewardship of the resources used for exhibit services.
Act with integrity toward our customers, employees, vendors, contractors and communities where we work.
Include stakeholders in decision-making about operations when possible.
In our industry, some significant issues are unavoidable, such as carbon emissions and waste, and affect our business operations and exhibits. At Heritage, we acknowledge the opportunities we have to improve our fleet's transportation practices to reduce carbon emissions.
As a purchaser of goods, we can also reduce waste by looking at the life cycle benefits of products that we procure on behalf of our customers. From there, we inform our customers of sustainability issues we can address through informed purchasing.
Reuse within our operations is high. Still, we acknowledge our responsibility to divert materials from landfill at the end of their useful life to reduce waste.
Sincerely,
Curt Yemm, President
Heritage Trade Show Services